Annual Winter Recital 2016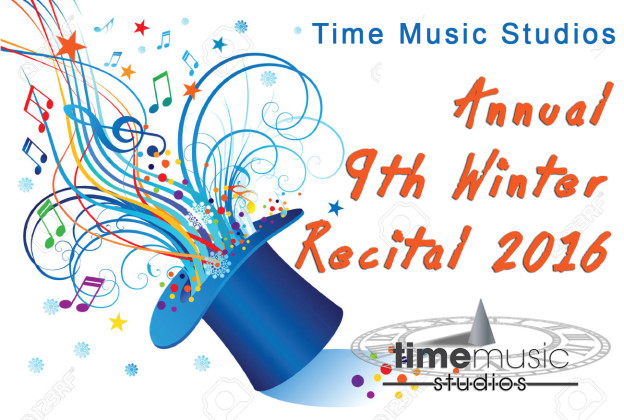 We are so very excited to host our Annual Winter Recital this year! We are so honored to have been favored by our West Spring & Discovery Ridge communities for these past 10 years and we are so pleased to be a part of the Evanston community this past year. The owners, staff and teachers have enjoyed watching our students grow and progress over this last year and we look forward to seeing you all showcase your talent and musical prowess. Be sure to stop by our media wall for glamour shots with your teachers and family.
If you're new to our studio or have never performed for a recital before and are a bit unsure about how recitals work, we have 8 (hour long) programs throughout the day. This is so that you won't have to be there for 12 hours like we do 

 (see how much we love you!) Performing is not mandatory, we want our students to feel confident and comfortable in performing. That being said, our staff and teachers strongly encourage our students to perform as it builds strong, confident and self assured performing skills. Performing students should arrive at least 5 minutes before the start of their respective programs in order to grab a program and be seated. Those who would require assistance from teachers should arrive earlier than 5-10 minutes (ie. for instrument tuning/pep talk/accompaniment etc). Dress code is dependent on the student; however, most students prefer "Dressy Casual". Teachers will not be attending all programs so be sure to find out which ones they will be attending.
This year the Spring Recital will continue to be held at the Valley View Presbyterian Church 7655, 26th Ave SW on Saturday January 30th. The programs are separated as follows.
Program A:     9:00am – 10:00am
Program B:     10:15am – 11:15am
Program C:     11:30am – 12:30pm
Program D:     12:45pm – 1:45pm
Program E:     2:00pm – 3:00pm
Program F:     3:15pm – 4:15pm
Program G:     4:30pm – 5:30pm
Program H:     5:45pm – 6:45pm
Click On The Appropriate Link Below To See Where You Are In Our Program. Regardless Of Where You Are In The Program, ALL Students Should Arrive At Least 5 Minutes Before Their Respective Program And Are Expected To Stay For The Entire Program Out Of Respect For Our Other Performers. If You Can No Longer Attend Or It Is Necessary To Change Your Performing Time, Please Email Us As No One Will Be At The Studios To Answer Your Call. We Look Forward To Seeing You There!
Program A Winter 2016
Program B Winter 2016
Program C Winter 2016
Program D Winter 2016
Program E Winter 2016
Program F Winter 2016
Program G Winter 2016
Program H Winter 2016